Since we're doing pretty good with the band we decided to buy us a van to get us around the world (well, at least most part of western Europe). After doing some research and checking out vans within our relatively small budget (hey, we're musicians) we decided that a Volkswagen Transporter T4 (Known in USA as Eurovan) would be the wise decision. Plenty of parts to be found, several online resource how to maintain this machine and a big enough van within our budget.
The search began and after a while we found a pretty good looking (considering it was 17 years old) van with not much KM's driven. 271xxx km's to be exact. Since I'm the person who has the most gear (and I could use it for rehearsals as well), it's decided I'm gonna buy the van. So, after a testdrive and nothing strange at this point, I decided to buy Moby Dick, a 2.4 liter Diesel Volkswagen Transporter extra long with double cabin.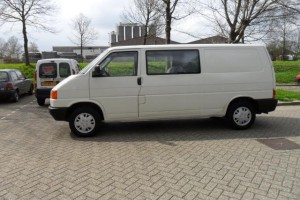 It needed some small work, for example. The back wasn't suitable for transporting a whole band. As musicians, we like music (how unpredictable), so a pair of new speakers and a decent car stereo was bought.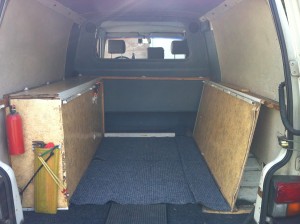 After the back was rebuild, everything actually fit in: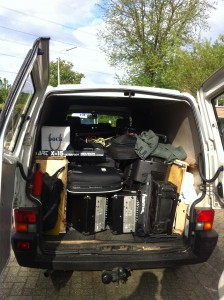 And this is how we did a few shows. Moby Dick started every time and while being pretty slow, it took us to several places fully loaded with gear. Obviously, we had it checked before the big trip to UK, which was around 2000 kms in total to drive. But it held… it brought us to some very nice locations like this private show in a tiny tiny place in the middle of UK: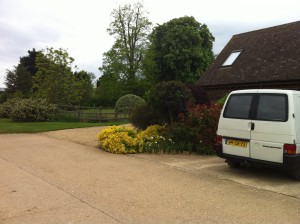 On the 5th and last day of our UK tour, we ended up in Cambridge, UK where, while we waited for where to park, the engine started to smoke. That's usually a bad sign. So, we parked up and shut the engine down, opened up the hood where we the cooling fluid was on places where it shouldn't be. Also, the remaining 25% of the entire cooling fluid was getting out very fast. Literally, an 'damn'-moment.
So, we unloaded the van (since we were THERE) and called up the AA. They found out the cooling fluid was leaking at a small piece of plastic and wasn't repairable on the spot. We had to go to the garage. So, after cooling down the engine and putting in some water, we went to the local 'German Tech' car-dealer where we had to wait until the next day. At my return, I couldn't resist to make a last picture of the location where the van spilled it's cooling fluid: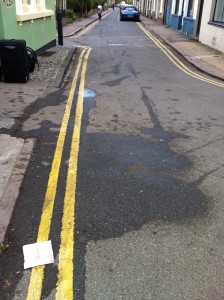 The next day, German Tech let me know that they could fix it with a 9 pound piece of plastic (and 3 hours of work >_< ). When I went there to pick the van up, they mentioned that the cooling fans didn't work AND the fuelpump was leaking. That's why Moby Dick overheated and destroyed the piece of plastic. A strange problem, since it was fixed 2 months before I bought it! Because it was cold enough, we could drive from Cambridge all the way to NL as long as we keep the temperature low. We drove home, no more problems (lucky enough) and the next day I called the garage where the repair was done. They couldn't tell me why Moby Dick was there, but they did mention that back then, the meter indicated 568xxx km's instead of 271xxx where I bought it at. So, 300000 km's dialled back! Enough reason to bring back the van to the guy I got it from. Lucky he got me my money back!
Again, I was without van. So a new search began and with some extra money, I got me another one. Faster, real (registered) km's and blue (and yet unnamed):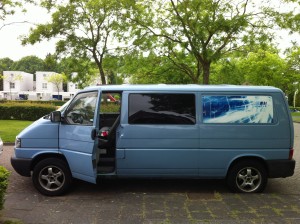 Much faster than the old one (2.5 TDi instead of a non-turbo 2.4). On the day I bought it, we (Pyrates!) went to Germany with it and all without any issues at all. A few days later, we did a local show in Helmond and on the way back, I heard a strange rattling sound coming from the engine. Still working fine, but with a rattle.
Next day, I tried to find what was wrong with it but couldn't find a good answer. It had to wait until monday when I had a rehearsal where a car-mechanic was.
Monday, I drove to the rehearsal and the first thing my mechanic-friend said, turn off the engine! The waterpump is broken and in this type of cars, the waterpump is connected to the timing belt, so .. if it breaks, the engine will break close to unrepairable. So, it had to go back to a garage. It will be fixed tomorrow or monday. Of course, I needed to make some picture. The garage told me I was incredible lucky. The timing belt was on the edge of breaking (and by that, destroying the entire engine).
At least it will be repaired and let's hope it will last for a long long time!
The pictures:
Front opened up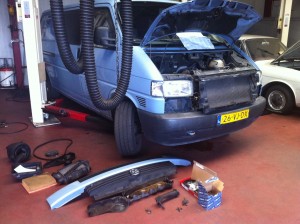 Engine open with the crankshaft (I think?) in the middle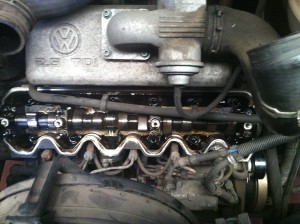 The next picture shows the left side of the engine where the waterpump is hidden below the big wheel, but note how much oil is on the belt (which should be clean!) and how it's almost broken: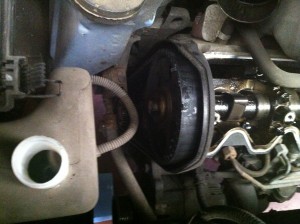 Wish me luck with the van!
UPDATE 1 July 2013: The weird sound the van was making, wasn't the water pump (well, a part of it probably was), but it was the crankshaft pulley. They had to replace this entirely because it was going to split (yes, literally split) pretty soon. After replacing this pulley, changing the oil seal (that was terribly damaged by the pulley), the timing belt and the water pump, the van is working again! We even drove it with Pyrates! again and soon we'll be driving it more and more for our shows. So, still having a lot of luck when it comes to this van. The engine still was sooo close to being broken entirely that the Garage didn't believe it was still running.